Date
21 October 2017, 11:00am - 3:00pm
Live music at Aratoi, Pacific Island drummers at Library Square, Thai BBQ food specials, Brass band at Rotunda, Historical tour, Steampunk, Games & Miniature train in QE Park, Art Sale on Park St, Pavement printing, Farmers' Market and lots more all around the BLOCK.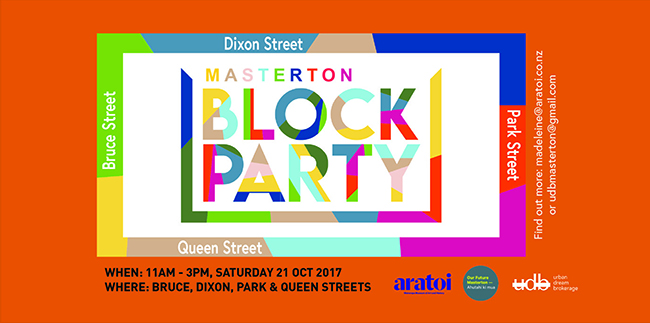 BLOCK PARTY WHAT'S ON
ARATOI LIVE - Soulful music with reggae vibes by Hemi Walker who has played at Tora Tora Tora, Gladstonebury and other venues around New Zealand. Aldo Pinelli hails from Argentina, but is in town at NZ Pacific Studio – he fuses classical, celtic, folk and progressive rock. Plus homemade treats in the museum café with Entice Cafe, Drop-in printmaking with Te Manawa museum educator Pip Steel, Tina Finn's enchanting stories exhibition.
FREE BLOCK TOUR Hear some amazing stories as you join Gareth Winter from Wairarapa Archive for a walk around the block. Tours start: 12 and 1:30 (approx 1 hr). Limited places, so please register at Aratoi, Tel 370 0001, open 10am-4:30, info@aratoi.co.nz.
We hope to print the pavement around the block with original stencil designs by Fab Lab Masterton and Te Patukituki, so enjoy your steps.
QUEEN ELIZABETH PARK – Members of Masterton Brass Band play in Band Rotunda (Noon tbc) Discover the grounds and surrounds, with a Park Discovery Hunt for the family (10-1pm) -- pick up forms from Island Bridge or Aratoi & return to Bridge for small prizes. Miniature Train runs all day, weather permitting. Rides $1 Lake House Cafe Face painting & colouring competition - the winner receives a kids' meal.
WOOL SHED & JUBILEE FIREHOUSE A great chance to see shearing up close, and to see the expansion of the National Museum of Sheep and Shearing too. The beautiful Firehouse is open, as always. 11 - 3pm
BAHA'U'LLAH BICENTENARY Celebrate the bicentenary of the birth of Baha'u'llah at Masterton Education Centre, 22 Dixon St, with a community art activity that celebrates unity in diversity. 12 - 3pm
GUESS HOW MANY BALLOONS are in the Honda and win a Honda sports bag and cap for the closest to the correct number of balloons at Southey Honda. 11 - 1pm
PARK STREET ART SALE Artists from Masterton Art Club will offer their original work for sale -- paintings, prints, and more at this cash-n-carry sale in the old Whaiora building, 5 Park St, kindly offered for the Block Party by Southey Honda. 11- 3. Cash only.
STREET-PRINT T-SHIRTs & TOTE BAGs Make your own printed T-shirts & tote bags from manhole covers & plates. Masterton Art Club will bring rollers, inks, paper, shirts & bags. For all ages. Start at 5 Park St.
ISLAND DRUMMING Drum and dance with the Pacific Island Cultural Group in the Library Square, beside Masterton District Library, and if it's raining, we'll drum & dance at Aratoi. For ages 5+. 12 - 3pm
BOOKS, CHINA, AND 2-1 SPECIALS at the Library. Did you know that Changchun is Masterton's Sister City in China and that Clives Ears is that city's flower? It's blooming by the Library, and there will be a book sale & two-for-one specials for DVDs and Hot Picks. 9:30 - 1pm
AFRICAN DRUMMING on Queen Street, courtesy of Sacred Art Tattoo and Piercing.
BALLOONS & BUBBLES to be festive, thanks to Festival Hire. 9 -12pm
THAI BBQ Gorgeous smells of Pork BBQ and Sticky Rice will waft down Queen St – also enjoy Thai milky ice tea & old-fashioned ice coffee & if the weather is fine, coconut ice-cream in a bun. From 11am.
INTERACTIVE POTTERY for all ages with Sam Ludden, view master carving by Wayne Pitau and Carl Rongonui, and Our Future Masterton

Community Hub Pop-up at Te Patukituki, 15 Queen St. 11- 3pm
STEAMPUNK exhibition 'Precognition' and arts workshop at King Street Artworks,10 - 3pm
STEP INTO A WET SUIT at O2 Dive N Surf, rain or shine! Plus 30% off wakeboards, water-ski, kneeboards & tow ropes.
WAIRARAPA FARMERS' MARKET Live music. Scarecrows. Colouring competition. Christmas decorations & lights. Miniature donkeys to showcase. 9 - 1pm