Aratoi runs a FREE Education Programme Monday - Friday during term time. Each session runs for 70 minutes and always includes a making activity related to the tour. Bookings are essential. Sessions can be adapted for all ages and we are happy to work with teachers to adjust the session. Our programmes are led by our Museum Educator Kate Devenny.
Aratoi's Education Programme gives students the chance to connect the past, present and future together through stories, taonga and objects from our community and the wider world.
How to Book
Email Kate at [email protected] to discuss current programme and to find day and time that suits your class. 
All programmes are FREE (with schools to organise their own transport).
2023 Programme
Term One and Two  
Explore historical thinking through the Art Curriculum with Drama and Visual Thinking workshops for students and teachers.  
Burn it all down exhibition tours, discover how seven artists use fire in their work to show the fragility of our world and our memories.    
Take inspiration from celebrated New Zealand print artists as we explore creative printmaking processes.  
Travel to the Moon with us and learn Mātauranga Māori around the Maramataka, the Māori Moon Calendar. 
TOP ART, touring exhibition of the best NZQA Art Boards from 2022 will be showing at Aratoi 9th May - 19th May 2023. 
Term Three and Four 
Experience our local stories told through sculptures from the Aratoi Collection.  
Get hands-on and create during our Student Sculpture Workshops - late July to early August 2023. 
A rare opportunity to see the iconic works of New Zealand modernist artist Rita Angus. On show at Aratoi in September 2023, in partnership with Te Papa Museum. 
Breadcraft Wairarapa Schools Art Exhibition 2023 - dates are set for 23rd September - 23rd October. 
Art Explorers: Free gallery tour and art making session
This programme will restart on 10th March 2023, 10:30am to 11:15am.  
Sessions will be held monthly during the school term.  Check our Facebook Page for notifications on upcoming programme dates. 
Aratoi's Free Art Explorers programme is created especially for our youngest visitor and is suitable for tamariki 3-6yrs old.  The sessions last 45 minutes and are based around our current exhibitions. There is always hands-on and art activities, led by an educator. The children get to take their beautiful creations back with them, giving them something tangible to hold and help them remember their experience. 
For separate Preschool group bookings, please email [email protected] 
Education Newsletter
Our education newsletter has details on upcoming events and programmes. 
To receive this newsletter please email us at [email protected]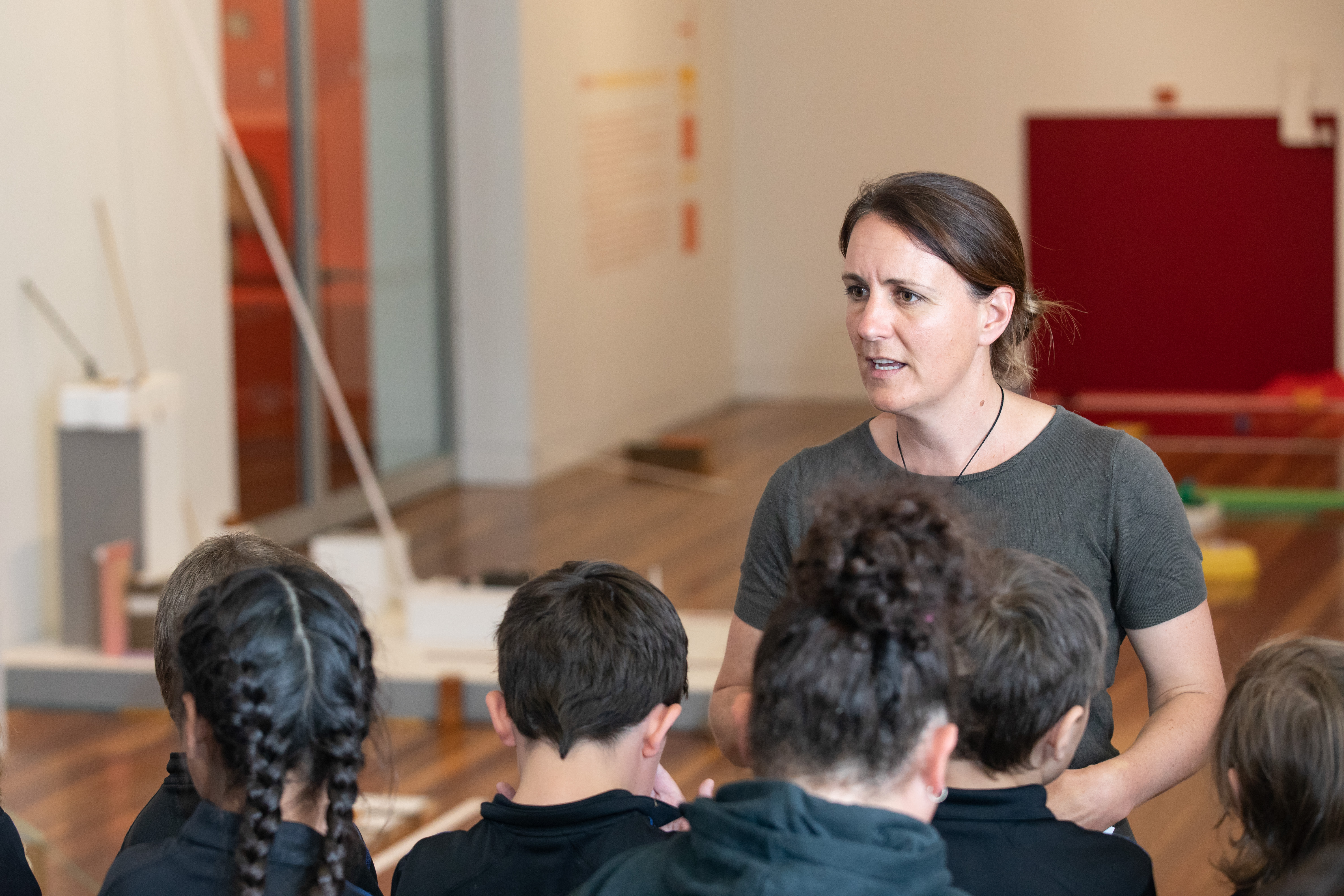 Educator Kate Devenny taking a class.

Education programmes are kindly supported by