Date
3 March 2018, 10:00am - 11 March 2018, 4:30pm
"Toiora te Moana – Toiora te Tangata – Healthy Seas, Healthy People"
Once again Aratoi is supporting Seaweek, New Zealand's annual national week about the sea.
Hosted by the NZ Association for Environmental Education (NZAEE), Seaweek focuses on learning from the sea.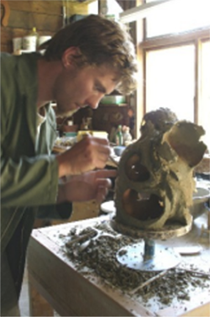 Seaweek residency:
Ceramic artist and sculptor Sam Ludden will take up residency at Aratoi during Seaweek with his wheel creating a clay hīnaki (eel trap) out of clay.
Starting from March 4 - 7 from 10am - 3pm.

Art Sleuth - a fun and free creative activity for the entire family, exploring the exciting exhibition Elizabeth Thomson – Cellular Memory. Endangered fish species – Draw your own or colour in the silhouette of a fish an add it to our window.