Date
20 October 2018, 10:00am - 2:00pm
BLOCK PARTY 2018 is 2nd annual community event in northern CBD of Masterton, an area with great talent, diversity and resourcefulness; a range of businesses/institutions; and care for heritage, culture, learning, nature, Te ao Māori, and well-being. The event is run with participation of the 50 entities of Bruce & Dixon & Park & Queen Sts, & this year, also King St, as well as community groups
FUN FOR THE FAMILY - African art. Live music. Arts. Crafts. Bouncy Castle. Games. Weaving. Pottery. Poetry. Nature trail. Raffles. Real fruit ice cream. Thai food. Ice slushies. Sausage sizzle. BBQ. Photography from Africa in the windows of the CBD shops. Weave a community mat. Make clay putangitangi / flutes. Print Masterton-made manhole covers onto tote bags. Embroidery and spinning and weaving and quilting and jewellery. Learn something Chinese. Car Wash. Lucky draw. Behind-the-scenes tours.Open Days.
QUEEN ST will be closed from Library to ASB Bank from 7am.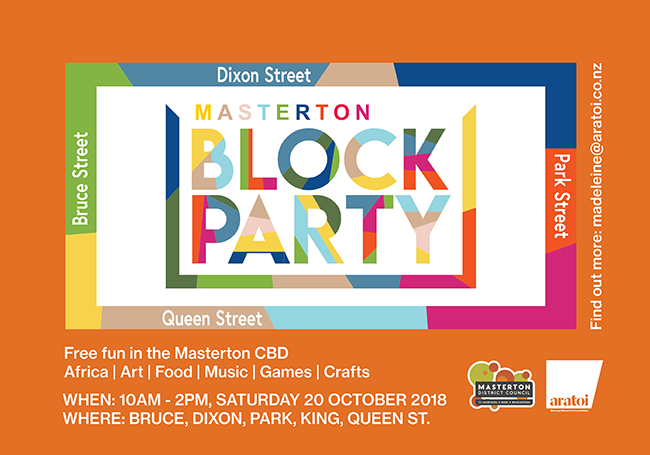 Initiated by Aratoi, supported by Masterton District Council and ConArt, King Street Artworks, Masterton Art Club, Masterton District Library, Te Pā (Te Pātukituki), and Wairarapa Archive.
Kindly supported by