He pātaka kai, he pātaka korero
Stories about a lake and its people

A major social history exhibition exploring the rich and sometimes turbulent history of the largest lake and wetland area in the lower North Island.
Historic photographs, paintings, taonga, and film trace the stories of Lake Wairarapa from its role as a traditional food basket for local Māori, through conflict with the Crown from the 1850s onwards, to its present day status as an internationally significant but threatened wildlife habitat.
A centrepiece of the exhibition is the 14.4 metre waka taua (war canoe) currently held at Te Papa, which has been restored for the exhibition. Te Heke Rangatira was originally a fishing canoe, and later used to transport people and goods across nearby Lake Onoke.
This is the first time it has been returned to Wairarapa for an extended period since it was taken to the Dominion Museum in 1905.
Also on display are taonga from the families of Wairarapa Rangatira and Premier Richard Seddon, along with historic hīnaki (eel baskets) from the Whanganui Regional Museum and Te Papa, and other taonga provenanced to Wairarapa Moana.
The exhibition documents the fragile ecology and how iwi, farmers, and other stakeholders are now working together to find ways of managing the area more sustainably and realize the vision: Whakaora te repo, ka ora te taonga wai – Restoring our wetland treasure.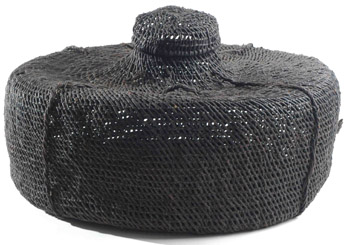 Korotete - eel basket
Photo courtesy of Whanganui Regional Museum.
Aratoi acknowledges the generous sponsorship of Wairarapa Moana; Eastern & Central Community Trust, Greater Wellington Regional Council, Kahungunu ki Wairarapa; Masterton Trust Lands Trust, McAuley's Transport Ltd, Newbolds 100% Electrical, Masterton; and Technology Solutions. WAIRARAPA MOANA is generously supported by Museum of New Zealand Te Papa Tongarewa, Department of Conservation, Whanganui Regional Museum, National Library of New Zealand, The Sign Factory, Henley Men's Shed, Loader Construction Engineering Ltd, Rangitane o Wairarapa, Rigg-Zschokke, Ornament, and The Village Art Shop.
Wairarapa Moana Exhibition Events
A series of events is planned to celebrate Wairarapa Moana and to better understand the life of the lake, its people and its history. Workshops, talks, visits to the lake and guided tours of the exhibition will run up to the closing of the exhibition on May 7th.

In March and April the offerings from Aratoi include a panel discussion on the plight of the tuna and the impacts of introduced species to the lake; descendants of Maori and early settlers families sharing their stories; a presentation of a successful example of lake restoration; prominent Wairarapa based artists and others talking about the influence of the natural environment on their work; a talk on the development of Pouakani – the 'reserve' land in the Central North Island given as a result of gifting the lake; a talk on the history of the waka Te Heke Rangatira and its significance now for Wairarapa and Te Papa Tongarewa and a discussion on the Wairarapa Treaty of Waitangi claims.
February Events
Wairarapa Moana – A Lake in Crisis Part 1
17 February 2011 - 6:00pm - 8:00pm
Giving up the lake
23 February 2011 - 6:00pm - 7:30pm
March Events
Stephanie Bowman - Tuna Tour Making art to save the longfin tuna
7th March 2011 - 6:00pm
Building our Legacy: The Whakaki Wetlands Restoration and Enhancement Project
17th March 2011 - 6:00pm - 7:30pm
Wairarapa Moana – A Lake in Crisis Part 2
24 March 2011 - 6:00pm - 7:30pm