A Micornaut in the Wide World
Graham Percy was one fo the finest book illustrators New Zealand has produced. The circumstances of his talent obliged
him to leave New Zealand in 1964 and shift to the United Kingdom, where he flourished. Sadly his work is not as well known in his home country as it deserves to be, but he never grew far from or denied his New Zealand roots. Even his last works, he was exploring ideas only a New Zealander could explore.
Hamish Keith
We are our childhoods, over and over, and with endless elaboration.
Lisa Appignanesi
Born in Stratford in 1938, Graham Percy grew up in Taranaki, Warkworth and Auckland. After graduating from Elam School of Fine Arts in 1959, he embarked upon a career as an illustrator/designer/artist and produced pivotal works for the New Zealand Journal during the early 1960s- a golden era in the history of that publication.
He also designed a number of iconic New Zealand covers and some award winning Crown Lynn crockery. He won a scholarship in 1964 to study at the Royal College of Art, London,and, upon his graduation from that institution, established himself as a illustrator/designer in the United Kingdom.
"Exhibition curated and developed by Gregory O'Brien in partnership with Exhibition Services Tours, in association with City Gallery Wellington, and Gus Fisher Gallery. All artworks courtesy of the Graham Percy Family Trust."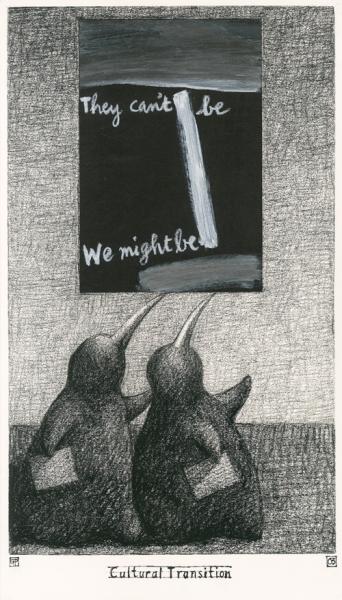 Cultural Transition (detail of triptych), 2003,
charcoal, ink, collage and crayon, 392 x 224 mm.
Used with permission of the Estate of Graham Percy.