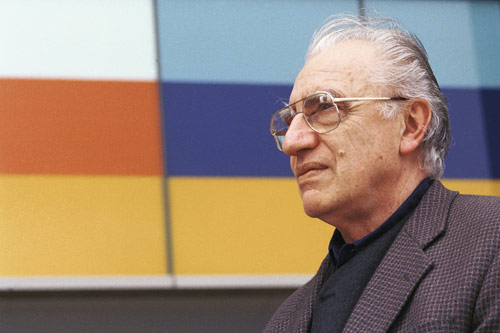 Portrait of Milan Mrkusich, Te Papa, Wellington 1996
© Museum of New Zealand Te Papa Tongarewa


Aratoi Wairarapa Museum of Art and History will be presenting a landmark exhibition with New Zealand's foremost modernist artist, Milan Mrkusich (b. Dargaville 1925). The site-specific installation will involve a reconstructed gallery environment to house the artist-designed installation of three major series from the 1990s. The Chromatic Investigations will be presented in public for the first time.

Aratoi's director Alice Hutchison has worked with Milan Mrkusich and his son Lewis to create the environment specific to the artists' measurements and conception with the proportions of the Aratoi main gallery space to meet the artists' specifications; a project proposal which has been waiting in the wings to find its ideal location for almost twenty years.
Inherently architectural, this exhibition embodies an evolution of Mrkusich's work with architectural commissions and design projects. With his exposure to the reproductions of modernist art from the Bauhaus, by 1958 he devoted himself to painting full-time. From 1949 to 1958 he was a partner in design and architecture firm Brenner Associates where he worked as a colour consultant and on exhibition and display designs. The culmination of his architectural work is the Cable Street, Wellington glass spandrels designed in 1994 for Museum of New Zealand Te Papa Tongarewa. The utopian Bauhaus philosophy was instilled in Mrkusich's commitment to "good design in every facet of the environment could enhance life, not just materially but also spiritually. The conviction that art and the aesthetic can have a role in building a better society is at the basis of his work for Brenner Associates during the 1950s."[1] Consistent throughout his career has been the process of investigation with the raw materials of paint, colour, line and surface.
"I do not choose my colour," Mrkusich wrote in 1985. "Colour is not mine alone. Colour just exists. Achromatic and chromatic colours are material facts" [2]
As William McAloon commented, "Acknowledging the materiality of colour, Mrkusich also acknowledges its subjectivity, its openness to the possibilities of interpretation, its relativity to different cultural values." [3]
The Journey paintings of the late 1980s prior to the Chromatic Investigations were amongst the largest the artist produced, with scale and proportions expanding the viewer's field of vision, and here in this installation we see a further evolving spatial articulation with colour.
Exploring and respecting the innate properties of the materials he works with, Mrkusich has sustained investigations into colour and their relationship with scale and proportion. Untitled's of 1994 are symbolic and differ from the Journeys which have no symbolism for the colours or predetermined sequence. Chromatic Investigations however are factual and involve sequence.
The museum will also have on view the Colour/Achromatic series paintings with Achromatic Primary 1997, a major loan from the collection of Museum of New Zealand Te Papa Tongarewa. Edward Hanfling has described this body of work in particular as the most 'architectural.' "Mrkusich actually constructs his paintings in the manner of an architect. His paintings are meticulously planned."[4] The planning process of this exhibition itself and the installation of these works create the culmination of a whole career phase; this exhibition in itself represents the finalization and completion of the work as an installation articulating architectural principals.
To see these investigations in colour, articulated spatially, will be an experience not to be missed.
[1] Edward Hanfling and Alan Wright, Mrkusich, Auckland University Press, 2009, p. 3
[2] undated letter responding to questions by T. L. R. Wilson, Auckland Art Gallery Research Library, quoted in William McAloon catalogue, published on the occasion of the exhibition Milan Mrkusich: Six Journeys, AAG, 1996
[3] ibid
[4] Edward Hanfling, Achromatics and Architecture, Bulletin of New Zealand Art History, Volume 21, 2000, p. 98
Aratoi is producing an exhibition catalogue to accompany Milan Mrkusich: Chromatic Investigations and Paintings from the 90s featuring images of the installation and artist's statements.
ISBN 978-0-473-29665-0
December 2014
Now available to order.
This exhibition and publication have been made possible by Aratoi Foundation and Creative New Zealand