Photographs by Madeleine Slavick
In this exhibition, Madeleine Slavick presents the poetry, poverty and generosity of Hong Kong. The photographic images trace nearly 25 years of living in Hong Kong, and an accompanying book contains fifty stories and fifty images.

The body of work draws attention to Slavick's multi-faceted practice as writer and photographer, artist and activist. It draws attention to the many natures of Hong Kong – the natural beauty and the pollution, the rural and the urban; a society with one of the largest income gaps in the 'developed' world where one out of seven people lives in poverty; a climate with great heat, rain, wind, flora, humidity, and decay; with mountainscape, skyscraperscape, seascape, and (re)claimed landscape; with everyday scenery such as bagged up carts and street signs, clusters of chairs left on the pavement for all to rest on, and high-rise bamboo scaffolding made by 'si fu' – which translates as 'masters'.

MADELEINE SLAVICK
Madeleine Slavick has published several books, including Fifty Stories Fifty Images (2012), Something Beautiful Might Happen (2010), China Voices (2010), My Favourite Thing (2005),delicate access (2004), and Round – Poems and Photographs of Asia (1997). Her photography has been exhibited in Africa, Asia, Europe, and North America. Madeleine has lived in North America for 25 years, in Hong Kong for another 25, and now lives in the Wairarapa.
Artist Talk: 21 March 2015 at 11am - Main Gallery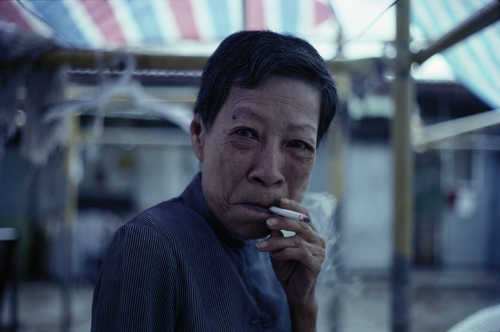 Woman at Yuen Chau Housing Estate, 1993.
Note: that editions of the photographs are available - please inquire at Aratoi reception.
with the assistance of the Creative Communities Scheme Masterton