Journeying to the remote Kermadec Islands involved a host of new physical sensations for the nine artists who travelled there in May 2011 - not least developing sea-legs for the two-day, 1000 km voyage.

'We entered a new and untrammelled realm of experience on both sea and land, stripped of the certainties and reassurances of normal life,' says poet, editor and painter Gregory O'Brien, who spoke at the opening of 'Kermadec: Lines in the Ocean' at Aratoi on Friday.

Writing in the book that accompanies the exhibition, Bronwen Golder described the challenging living conditions aboard HMNZS Otago.

'Quarters below deck were tight - each bunkroom was hardly big enough for the requisite six bodies (stacked into bunks three high)'.The claustrophobia of being confined to a vessel without windows (apart from on the bridge) prompted the seariders to remain outside on the decks as much as possible.'

Likening the below-deck experience to being in a submarine, sound artist Phil Dadson sought freedom pacing the corridors and sheltering in a steel porch outside where: 'the sounds of the engine and the surging sea amplify as if my ears have expanded to form an acoustic shell within which all the frequencies of the ocean become audible'.

As well as grappling with the vastness of the ocean stretching before them, O'Brien was struck by the intricate mechanisms used to ferry goods and supplies on and off the island: 'Just about everything that comes onto the island comes by way of a hook and derrick.' These appear in silhouetted form in his paintings, also suggesting the impact of industrialization, off-shore mining and fishing on the environment since the arrival of the first people there.

He says the exhibition is still evolving as the artists have continued to make work relating to the trip, five years on from the journey. Artwork has been on display as far afield as Easter Island, Nuku'alofa, Southland and Whangarei. 'About the only place it hasn't been exhibited in is the Kermadecs!' he says. O'Brien will be speaking again at Aratoi as part of a series of Kermadec events during the coming months. Check www.aratoi.org.nz for details.

'Kermadec: Lines in the Ocean', until 13 November.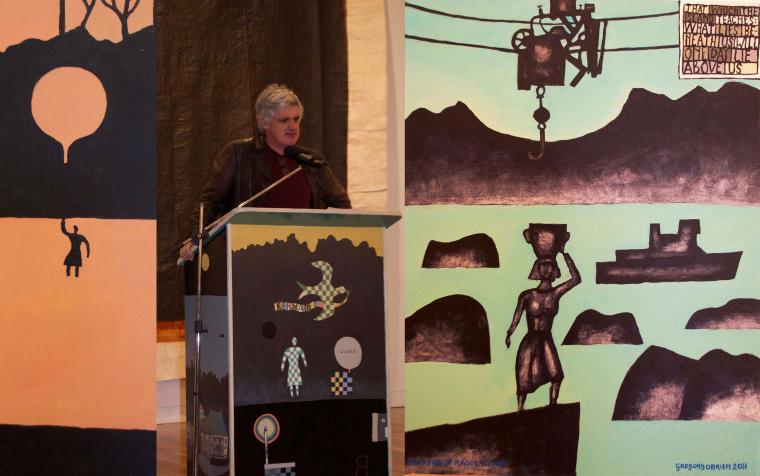 Caption: Detail of Gregory O'Brien's painting 'Weather balloon, Raoul Island'; O'Brien opens the exhibition speaking from his hand painted re-purposed 1950s church pulpit; and his painting 'Proverb of Raoul Island'.