"Nerve-racking" is how Emma McLachlan describes having her work on display in a gallery for the first time. But it can't be all bad because she has a big grin on her face as she tells me this! Her pastel space-themed artwork is proudly on show at the annual Breadcraft Wairarapa Schools Art exhibition, alongside hundreds of other pieces by the region's school students.
Almost 600 people attended the opening, and Breadcraft Wairarapa Ltd director Peter Rewi says the show's appeal has endured since the first Breadcraft sponsored exhibition in the 1980s: "This year's exhibition has even more entries than last year with more than 500 entries from 20 local schools …. and we have seen the exhibition continually grow year on year in both quantity and subject matter," he said.
The exhibition is always a family affair, a moment of achievement to be shared with whanau. Emma was visiting with mum Jody, and sisters Ella and Pippa. She was inspired by some detailed portraits by Wairarapa College students – something to aspire to when she is a bit older.
For some, the annual exhibition is the first time they or their family have visited a gallery or museum, and it can be the start of long interest in art. Aratoi offers a range of ways young people can engage with art, such as its regular school holiday programme. The October school holiday programme is already booked up and will see children working with Fab Lab Masterton to design and create their own piece of illuminated wearable art in a series of 'Soft Circuit' workshops.
 Breadcraft Wairarapa Schools Art 2017, Wesley Wing, Aratoi, until 8 Oct.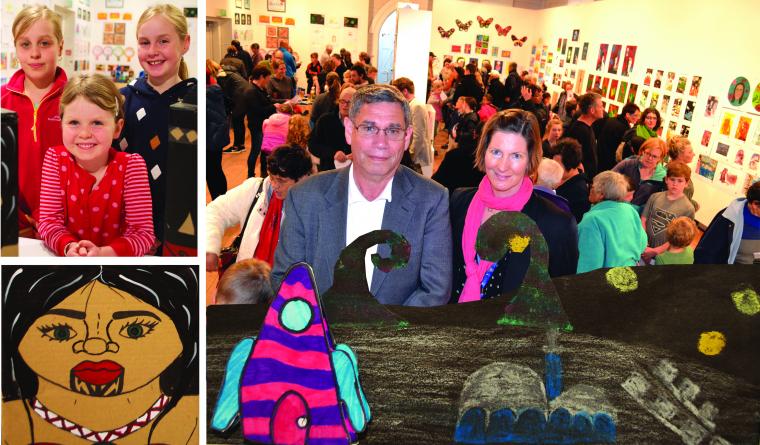 Clockwise from top left: Ella and Emma McLachlan with their sister Pippa (front); Breadcraft Director Peter Rewi with Susanna Shadbold, Aratoi Director (Photo: Lynda Feringa); a detail of Emma's artwork; and a bold wahine by Shae Urlich, Solway College.