There has only ever been one theme in Masterton artist Helene Carroll's work, one story so close to her heart that its rich imagery continues to flow unabated after many decades of dedicated painting, printmaking and ceramics.
"Being the only child of parents who were survivors of the Holocaust has always shaped who I would become," she says. Three generations of her family were abruptly murdered; a host of uncles, aunts, cousins and grandparents lost before she could know them. On her father's side alone, six of her uncles and aunts were killed by the Nazis at the start of the war. Her mother's brother - a Red Cross doctor - was also killed in the invasion of Poland.
So Carroll's paintings have been "a way of plugging the gaps and filling the spaces where my relations should have stood". She says she has been lucky to have art to help her process her life story: "It has helped me try to make sense of the loss of all those hopes and dreams, senselessly smashed in only five years.
One painting is based on how school friends used to ask why her mother had written her phone number on her arm. In fact, it was the Auschwitz identification number tattooed there.
A recurring image is of her beloved grandfather who came to New Zealand in 1949 with Helene and her parents, who both  miraculously survived the concentration camps. One painting tells the true story of her father tossing his heavy winter overcoat over the side of the Luciana Manara, the ship that brought them to Wellington, as he was convinced of the capital's tropical climate.
This is an example of how Carroll manages to bring humour to her life story.  Jewish symbols and images blend on the canvas with those of the Pacific and New Zealand in a blaze of gorgeous colour and pattern. Carroll recently turned 70 and says "the ideas come faster than I can cope with!" Helene Carroll – Recent Paintings 2012 – 2017 opens this Friday and you can hear more from this fascinating artist when she gives her talk at Aratoi on Saturday 9 September at 11am. Breadcraft Wairarapa Schools Art 2017 is also running at Aratoi from 9 Sept – 8 Oct.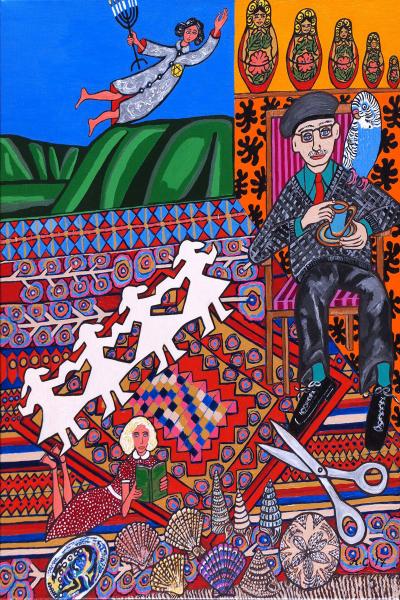 The Grandfather Protects Small Girls. No. 1,
one of the paintings in Helene Carroll's exhibition.