Tears fell down the faces of members of Wairarapa Iwi as an ancient korowai was unveiled to them after returning to New Zealand after more than 100 years.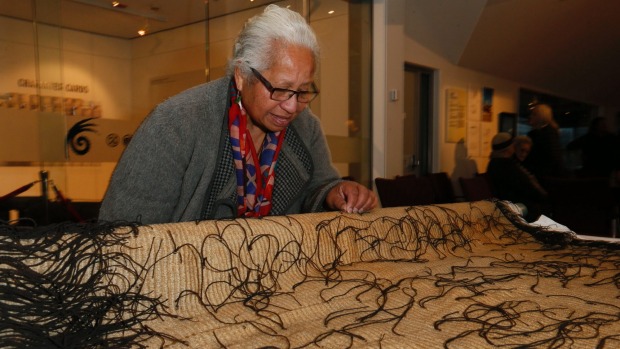 The Maori cloak fell in the hands of the Nelson Provincial Museum a few months ago after MP Marama Fox, heard the item had been bought on Trade Me by a Nelson man.
Fox said receiving the korowai was a touching experience and was glad the cloak had been returned. I can't even describe it, it is actually quite overwhelming, the emotion from our wahine that are here," she said.
A mihi whakatau was held at the museum on Tuesday to hand over the korowai to members of Rangitane o Wairarapa, Ngati Kahungunu ki Wairarapa and Aratoi museum - the three parties who jointly purchased it.
Ad Feedback

Aratoi museum director Alice Hutchison said the whole experience had been "overwhelming"

"This is the first time in over a hundred years that it has been reunited with its people, with its family," she said.

"If it could only talk, the incredible stories that are embedded within this beautiful very, very fine weaving. Of course being Matariki, it's deeply significant. It's an intergenerational conversation that we're having."

The cloak was bought by an American in the late 19th century and ended up at the Rochester Historical Society in New York in 1906.

It only ended up back in New Zealand hands a few months ago before Leon Bonney bought it off Trade Me for $6000 and was approached by the Wairarapa Iwi.

"I had friend who said 'Marama have you seen this, it's on Trade Me'. It had a card with it that said 'Wairarapa', it had been with it for the length of time that it had been hidden in a closet," she said.

"We came to an arrangement with Leon between the Kahungunu Iwi, Rangitane Iwi and Aratoi, the art and history museum, to return it to Wairarapa."

Museum chief executive Lucinda Blackely-Jimson said it had been "an honour" to hold the taonga and help it on its "journey home".

"It's an incredibly moving experience to be part of the journey and to help the relocation of the taonga."