King Street exhibitions are guaranteed to put a smile on your dial: bold, uninhibited riots of colour; objects that take a quirky, lateral on life, the universe and everything, and little gems shining their light quietly, giving the viewer a delightful, unexpected reward.
I found all this at the current Annual exhibition at Aratoi.
Ron Monaghan gives us a great image for winter with his painting 'Infinity Pool'. Such lux pools are generally the preserve of tropical island resorts, but the ship gliding across the horizon looks a lot like the Interislander; a fresh new context dreamed up by Ron.
In 'Wings' by Brent Spencer, two realistically painted butterflies share a plant stem with an exotic, delicately stippled cousin, perhaps visiting from another wholly imaginative realm. Peter Lenz's 'City Windows' reminds me of the densely packed apartments that you see from the motorway going into Wellington, each window pane revealing a still life of the occupant's zone. Peter's apartment windows are like stacked TV screens, each broadcasting a different face, a different story.
Te Ropiha Keating's 'Night Sky', and Vanessa Ryan's 'Landscape 2' for me fall into the 'quiet gem' category – both paintings have beautiful subtle colours and seem rich with mystery and possibilities.
As usual there is a strong showing of ceramic art in this year's show. Audrey Hall is a prolific ceramic artist who always incorporates an incredible amount of detail into her skillful work. In 'What's Cooking', an anteater is cheerfully stirring up a sustaining potful of creepy crawlies. In contrast, her Vase featuring swan vignettes is serenely beautiful.
Another great show from King Street artists. Thank you for the smiles.
Now showing at Aratoi: King Street Artworks annual exhibition, until 24 June; Look Out Animal Safari, until 23 June; Bill Hammond, Hokey Pokey (1998) and Contemporaries, until 4 August.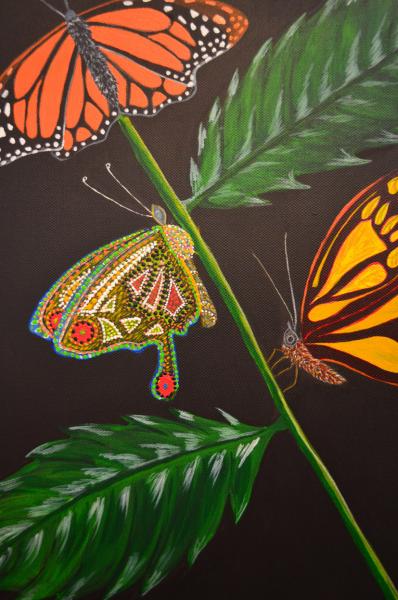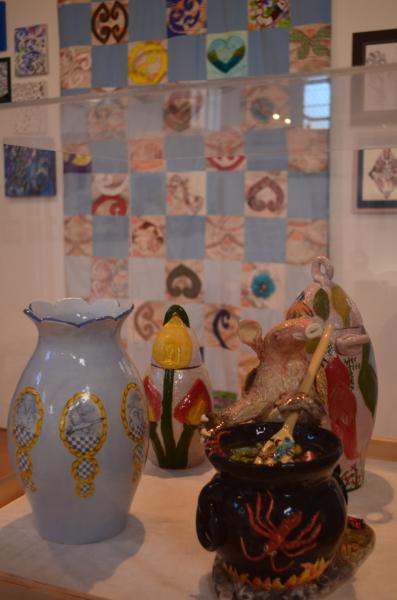 Brent Spencer's Wings (detail) Audrey Hall 'What's Cooking'