Shirley Reid started coming to King Street Artworks about two years ago and it didn't take long before she got hooked on working with clay. 'Now my house is filling up with pieces,' she laughs. But not all of her work makes it home. She's also had the thrill of selling a number of pieces and is currently working towards the annual King Street exhibition that opens on 15 July.
Reid has a soft spot for farm animals, and a quirky cow and horse are waiting in the queue for the kiln, jostling for space with lots of other King Street creations, ahead of the show. Given that things can go wrong at the firing stage, after all the hard work of manipulating clay, she is very pleased with how her clay sheep turned out. It is lovingly covered with curls and has the shiny glaze that Reid prefers. However, after making a series of fairly large creatures, she needed a change and is now trying her hand at papier mache using layers. 'I'm making a woman with a large skirt,' she explains. 'You build it up over a wire frame.'

Art is only one part of the King Street experience for Reid. 'I used to be quite shy but now I come here to be with my friends.'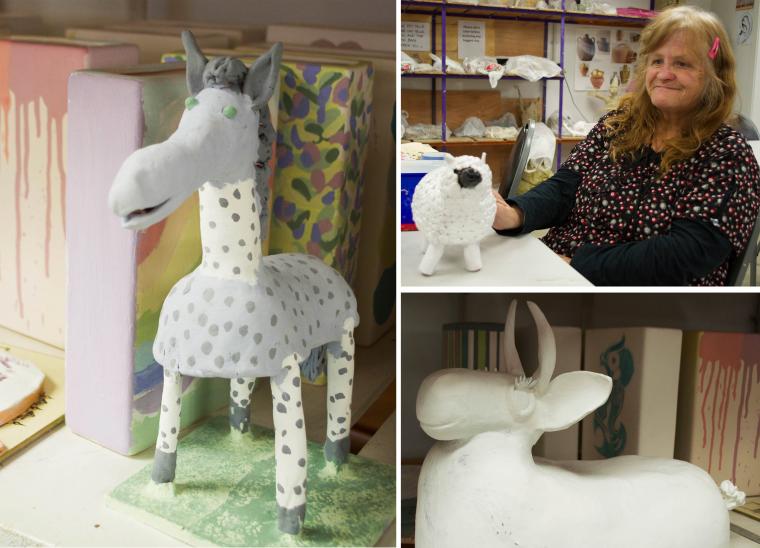 'DIY Sign' School holidays workshop

Inspired by the global village, artists Janie Nott and Kathy Bartlett are introducing young people to the joys of fonts and hand lettering at the coming Aratoi school holiday programme. 'Going to places such as India and Bali, you see lots of lettering that has been done by hand, and we thought the children would like to give this a go,' says Nott. 'It's bold, super colourful and there are often layers of detail and symbols.' Words can describe what we paint and take the place of images in art – in fact becoming the images themselves, she says.

The workshop is suitable for children aged seven to 13 and runs over two days on 19 & 20 July, from 10am-2pm. Bookings essential T: 06 370 0001.