Jenny Tosswill of Greytown bought her 'Little Jewel' two years ago and she still admires it every day. Others have the chance to purchase their own small, affordable art treasure at the popular biannual 'Little Jewels' exhibition opening on 18 November at Aratoi.

Tosswill's painting is by her friend Martinborough artist Andee de Latour, whose work she has long admired. 'I love the way she does the shadows and folds of the hills. This painting leads your eye over the edge of the cliffs and has a really three dimensional quality.'

Tosswill has lived on a farm with views of the Tararuas for 40 years which is possibly why she's always connected with de Latour's rural scenes and landscapes.

The artist's style was easily recognisable in the 2014 exhibition but all canvases are actually displayed anonymously in the show. "The reason for this is that we want people to buy a work that appeals to them,' says collections manager Bronwyn Reid.

With everyone from local amateur artists to those with an international reputation participating in this year's show, the element of surprise adds to the excitement and previous 'Little Jewels' openings have been likened to Boxing Day sales due to the frenetic buying atmosphere.

Coordinator Sandra Debney, a member of the Friends of Aratoi, has over 130 artists signed up so far. 'I am amazed at the people who are contributing to the show this year, and a number of high profile artists are putting in multiple works,' she says.

This year, canvases are larger (20 cm X 25 cm) and more substantial than in previous years, and artists can work in any medium on them. Each work will be priced at $120, with money raised going direct to Aratoi's acquisition fund, which enables purchasing of new works by local artists.

There's still time for local artists to participate. Blank canvases can be collected from Aratoi and work needs to be delivered to Aratoi by 14 November. 'Little Jewels' opens at Aratoi on 18 November.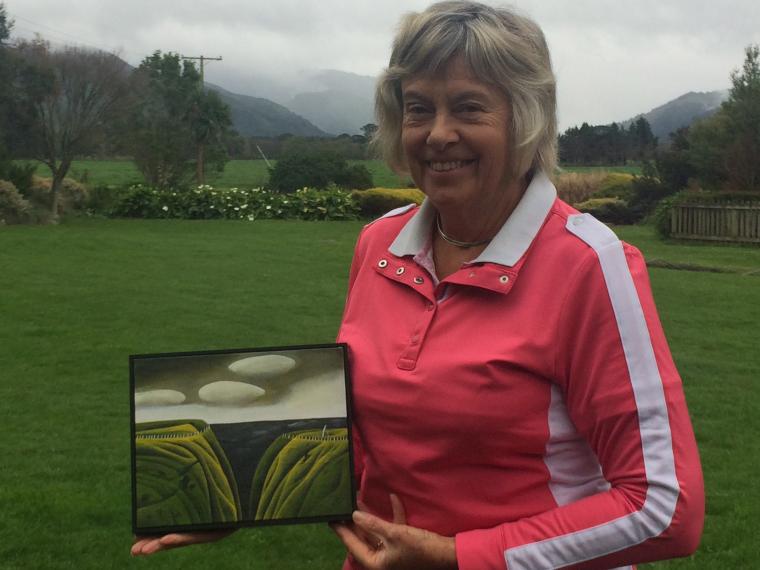 Caption: Jenny Tosswill with 'Evening Light' by Andee de Latour, a purchase from the 2014 Little Jewels exhibition.