She was beautiful, she was elegant, and she was finally able to stretch out her ancient body in her own home of Wairarapa surrounded by whanau... The korowai (cloak) which has been named Hine Muka was welcomed to Aratoi in a moving powhiri last week.

Representatives of Ngati Rangitane and Ngati Kahungunu who spoke at the event described the ancient korowai as 'our tipuna' (ancestor) who had made her final journey back to Wairarapa. Fox says iwi settled on the name Hine Muka (flax) to highlight its exquisite quality of weaving. 'To us, she is priceless.'

The korowai was purchased by an American tourist in the late 19th century and stored at the Rochester Historical Society, New York until last year. It was sold on ebay for NZ$163 then to a Nelson buyer for NZ$6000.

MP Marama Fox spotted it for sale and realised its significance when she saw a card attached to it bearing the word 'Wairarapa'. The korowai has since been purchased by the two iwi and Aratoi, and will join a group of other korowai of different types in the Museum's collection.

Tracey Robens (Ngati Kahungunu, Ngati Rangitane, Ngai Tahu), a member of Te Roopu Raranga Whatu o Aotearoa
(Maori Weavers NZ), travelled from her home in Rotorua for the event. She says the korowai bears the hallmarks of a golden age of weaving in New Zealand.

'It comes from a time when our people would not have survived without flax. It was used for everything - for clothing, for shoes for sails.'

'You can see the shaping with darts at the shoulders - these korowai were used everyday, babies were carried in them, and they were also used for important ceremonies. It's covered with hukahuka - strands of flax died in black mud. The detail is incredibly fine.'

One or perhaps two people would have worked on it as it hung between two weaving sticks planted in the ground, she says. 'It probably took about two years to complete.'

Looking closely, she was thrilled to see that some of the techniques used have survived in contemporary weaving - especially given the art came within a hair's breadth of dying out completely but for the work of master weavers such as Diggeress Rangituatahi Te Kanawa.
Modern weavers will be able to view the korowai and learn from it in the future, said Robens. Collections manager Bronwyn Reid says ancient cloaks like this must be stored and displayed lying flat in dim lighting. Fox told students from Te Kura Kaupapa Maori O Wairarapa that they were now part of the korowai's story too.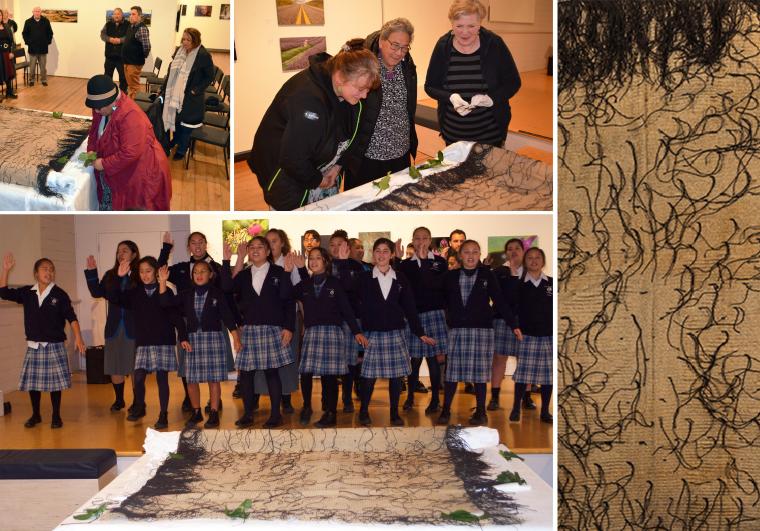 Caption: Clockwise from top left: Frances Reiri-Smith welcomes Hine Muka while daughter MP Marama Fox looks on; master weaver Tracey Robens and her mother admire a detail with collections manager Bronwyn Reid; students from Te Kura Kaupapa Maori O Wairarapa give a rousing welcome.