'Ideas in my work come from many places. I think about all sorts of things while I am painting, so it all gets intermeshed'. Carterton based artist and designer Rebekah Farr is describing her process ahead of her second solo show called 'Drift', opening at Aratoi this Saturday.

One theme that has been front-of-mind for the past few years is her beloved horse's journey with arthritis and the awareness that he is nearing the end of his life. Farr works with her horses using Liberty and Classical Dressage techniques.

'This experience fuelled the 'old man with baggage theme' and one of the works that depicts this is a painting called 'Drift', says Farr. It shows a bewildered part human part animal laden down with bags in a subtle, indistinct landscape that could be Wairarapa. It won the Highly Commended prize in the Friends of Aratoi Art Award in December last year.

'I started this series at the beginning of 2015 and I've decided to give the name 'Drift' to the exhibition because it really captured the feeling of all of the works, not just that one painting,' she says.

Farr has also been influenced by American realist photographer Dorothea Lange's images of displaced farm families and migrant workers travelling the country in search for work during the 1930s Depression. The theme also resonates with the current global refugee crisis.

'That's been pretty inescapable over the past year. When I found myself painting these drifting figures and then heard and read stories of the desperation of refugees around the world and most of the world's xenophobic response it did affect what I was painting too. The world is just watching, not helping them.'

In fact, everyone has experienced the feeling of being in an uncertain, shifting landscape 'where the old rules don't apply', at one time or another, says Farr.

She reinforces the idea of a vague, uncharted journey to destinations unknown by adding layers of wax to her oil paintings and leaving parts of the canvas unfinished.

'We don't know what the future holds for these beings, and their paths are already starting to disappear where I have not finished painting them.'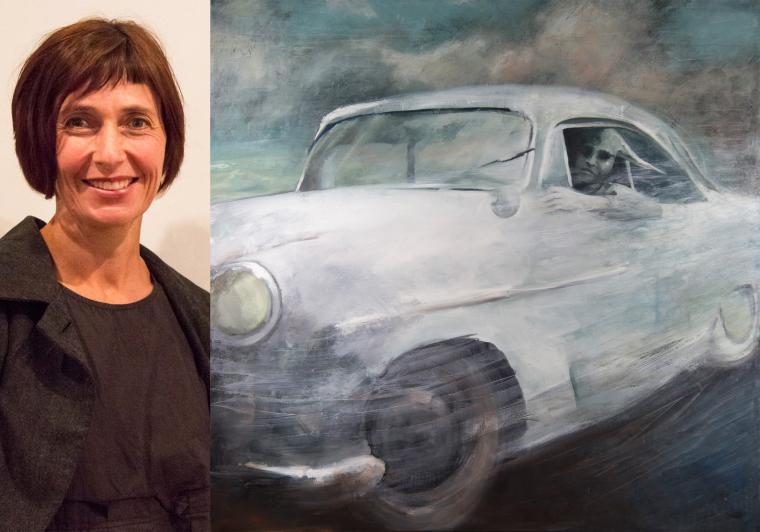 caption: Rebekah Farr with 'Leaving', one of the paintings from her new exhibition.