The first artwork in Aratoi's collection was bought back in 1963 by Masterton residents before there was even an arts centre to house it. 'There was a group of local people who were determined to have an art gallery here,' says collections manager Bronwyn Reid. 'They thought every civilised town needed one.'

After years of determined fundraising, they got one, and English artist Barbara Hepworth's metal sculpture Galliard, Form and Movement - actually the first metal sculpture she'd made - was their first purchase.

'It was typical of the times that they looked to an overseas artist for this first artwork,' says Reid. The group paid 465 guineas for Galliard - ironically a Colin McCahon painting could have been purchased 'for a song' back then, says Reid.

Fast forward to 2016 and Aratoi now has several McCahon paintings amongst its hundreds strong collection. The collection has grown thanks to bequests, gifts, and the patronage of families such as the Priors over the years.

One of the McCahon paintings features in the new landscape-themed exhibition curated by Reid.'The show is a very personal choice of as wide a range as possible of landscape works from 1863 to 2013.' Reid is the longest serving staff member at Aratoi by several decades.

'Art is a Living Thing'

Opening this weekend is an exhibition marking 15 years of the New Zealand Pacific Studio at Mt Bruce. New Zealand-born academic and author Dr Kay Flavell bought the historic Normandell House in 2001 as a way of keeping in touch with New Zealand, and also providing a 'sanctuary' for NZ and international artists. One hundred artists who have stayed at NZPS are featured in 'Art is a Living Thing'.

'Artists experience more than the expected tracts of time and space during their residencies,' says curator Madeleine Slavick. 'They experience a tangible sanctuary, a solidarity with the other residents, and maybe a reassurance from the house itself.' The exhibition includes a huge range of art, and there is a musical concert with readings this Saturday at 2pm. Koha. 'The Long View: Landscapes from the Collection', until 19 Feb. 'Art is a Living Thing: NZ Pacific Studio - 15 years', 3 Dec - 15 Jan. Concert Sat 3 Dec, 2pm.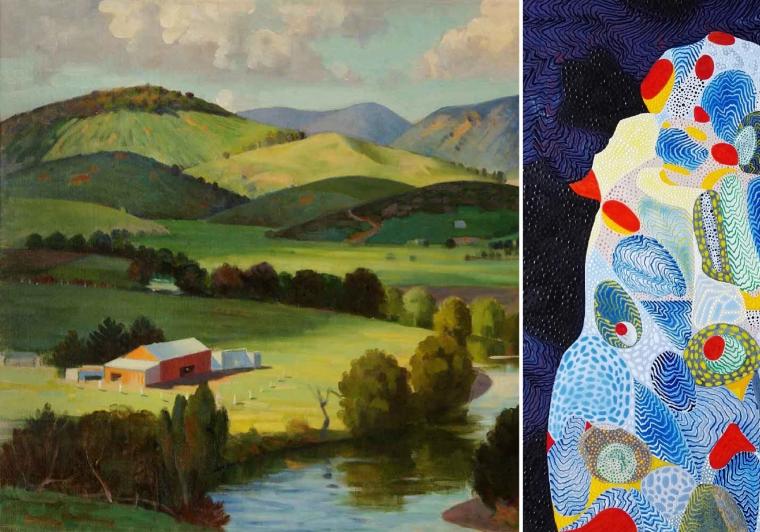 Photo Caption: Left to right (details): An untitled oil on canvas by John Weeks, in 'The Long View' at Aratoi, and Arie Hellendoorn's 'Slice Variation 5', which will feature in 'Art is a Living Thing'.