The Masterton Trust Lands Trust has recently provided two grants in support of Aratoi Wairarapa Museum of Art and History – an Education Grant, which supports a free education programme for students across the Wairarapa, and an annual ongoing Concessional Rent Grant, which in effect allows the community museum to enjoy rent-free status.
"The Education Grant from Masterton Trust Lands Trust enables Aratoi to deliver a high-quality programme for Wairarapa children in 2019," says Director Susanna Shadbolt. "In the month of May, 853 students, teachers and parents have been guided through the free education programme, learning about the rivers and lakes of Aotearoa. The smiles on the children's faces as they learn more about the museum and the environment is both important and heart-warming."
"On behalf of Aratoi," says Barb Roydhouse, Chair of the Aratoi Regional Trust, "I thank Masterton Trust Lands Trust most sincerely for the recent annual Concessional Rent Grant which enables us to continue to carry out our daily work in such a stunning building, which the Trust also maintains."
In fact, museum support from the Masterton Trust Lands Trust dates to the 1890s. Richard Brown, the then Secretary of the Trust stored an eclectic range of items which would eventually form the basis of the Masterton Museum, and the Trust funded the position of a part-time caretaker. The museum was open at various locations from 1911 to 1954. The 175 items are now cared for by Aratoi and include Taonga Māori, huia and other mounted birds, moa bones, animal skulls, an ancient Egyptian coin, ethnographic objects from the Pacific region, textiles, and various curios.
Aratoi celebrates its 50th year this year, and back in 1969, it was the residents and community institutions of the Wairarapa that advocated for the founding of an arts centre for the region. Such community support remains vital today. Aratoi's principal supporters are the three district councils, Masterton Trust Lands Trust, and Trust House and its two major corporate sponsors are two of the oldest companies in the Wairarapa: Tranzit and Breadcraft. On top of this, Aratoi volunteers donate about 5,000 hours each year, and about 500 people join as Friends. In the past three years, donations to the collections has tripled, and visitor rates have risen by 84%. Dame Robin White, who serves as the museum's Honorary Patron, says, "Aratoi is our taonga."
"The museum is in great heart," says Barb Roydhouse. "Institutions such as the Masterton Trust Lands Trust are invaluable to the Wairarapa cultural community. We record their support in our annual accounts and reporting, and we publicly state their generosity at all exhibition openings and events."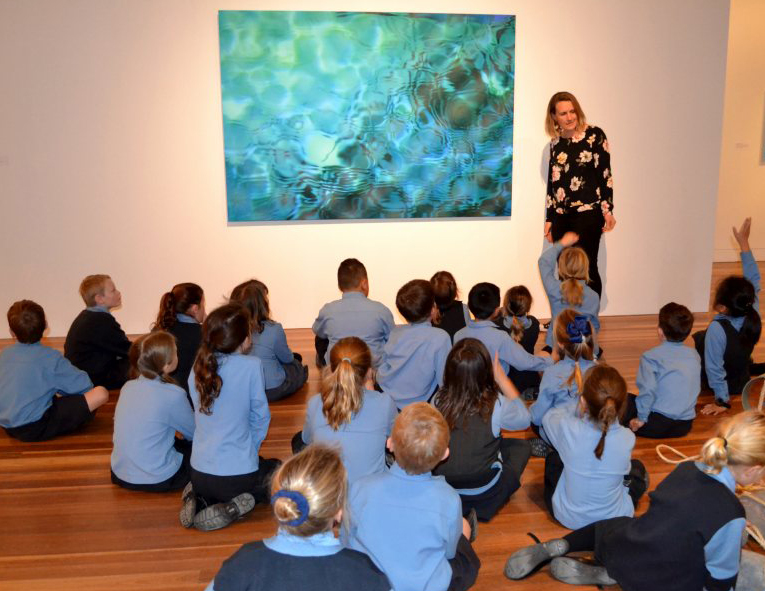 Aratoi's Education Programme underway in the main gallery