It's an instantly recognisable landmark in Wairarapa but Stewart Watson manages to show the hilltop house at Ahiaruhe in (literally) a completely different light in his photograph, one of 48 by Wairarapa Camera Club members currently on show at Aratoi.

Photographers have been recording the house's demise for the years and Watson, who lives a few minutes down the round, has often made the pilgrimage. But about three years ago he got hooked on astrophotography and that added another level to his work. In fact when I spoke to him, he was packing his equipment for another 4am shoot in the Wairarapa wilds, accompanied by others from Club, and seemingly undeterred by the prospect of another bitter frost.

The ungodly hour is one of the best times to capture dramatic skyscapes but Watson is appraised of other key ingredients too.

'I've got an app on my phone now which tells me when the conditions are going to be just right. You need to go on one of the four to five days a month when there is no moonlight, and the 'Galactic Core' of the Milky Way - seen here as the bright lights immediately above the house's roof line - is visible in the Southern Hemisphere between March and October .'

'The Milky Way is a particularly interesting phenomenon because it rotates and swivels across the sky over the course of the night,' he says, "showing as a low arch in the sky just before sunrise."

Astrophotography takes practice, says Watson, and he's learnt that it's not enough to simply focus on the sky. For this shot, he illuminated the facade with a torch and he's also experimented with placing small night lights inside the house to give the impression that it's occupied.


Less calculated but still striking is Greg Ball's photograph 'Nectar of the Gods.' The butterfly was particularly courteous that day, returning to the same thistle plant repeatedly and so giving Ball time to rush inside to get his camera.

Ball has got to know the plants in his garden that appeal to butterflies and keeps a weather eye out for them. But there's no guarantee that he will 'strike gold'. 'One of the keys to close up wildlife photography is taking lots of shots,' he says. 'You don't stop to look at what you've got, you just keep taking photos.' While he enjoys other types of photography, his home garden is always accessible and, as this photo shows, is already full of possibilities.

The Power to Light runs at Aratoi until 10 July.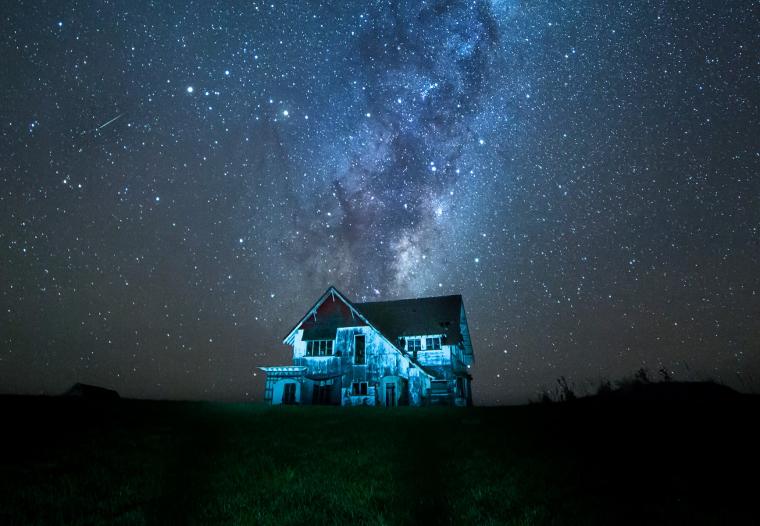 Caption: 'Haunted at Ahiaruhe' by Stewart Watson & 'Nectar of the Gods' by Greg Ball.