'I didn't know it at the time, but the Wairarapa Camera Club was the beginning of something big for me,' says Rebecca Kempton of Greytown.

The club's biennial exhibition opens at Aratoi this weekend, and Kempton says she got a creative and professional boost from being part of a group of fellow photography enthusiasts.

'I was one of the few young women members at the time but now there is a much more diverse group of people,' she says.

She joined the club because she was keen to reconnect with her hobby after starting a family. Two years later, she is running her own business Images for Art, creating fine art images and cards that she sells throughout Wairarapa. Her latest job is a commercial photo shoot for Adam Blackwell of local business Blackwell & Sons.

'The club has been a great platform for learning. I'm into the creative side of photography and I'm looking forward to the workshops in Adobe Photoshop and Lightroom that are coming up. I've also just come back from a club field trip to Erewhon Station which was amazing.'

Kempton knows it can be intimidating taking the first step for newcomers but the club has an open door policy and, as the go-to person for new members, she says people at all levels of photography are welcome. 'If you are interested in photography, we would encourage you to come along to a few meetings to get a feel for it'.

To find out more about The Wairarapa Camera Club including dates for club nights, please see www.wairarapacameraclub.org. The Power to Light, Aratoi, 27 May - 3 July 2016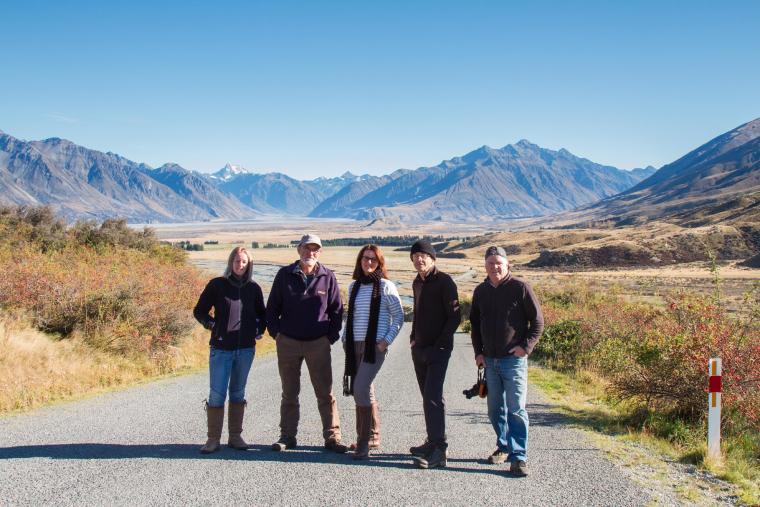 Caption: Left: Camera Club members at Erewhon Station recently. From left to right Belinda Pratt, Mike Longworth, Rebecca Kempton, Tim McMahon and Peter McNeur. Right: 'Last Light from Castle Rock' by Rebecca Kempton: 'We climbed to the top to see the full moon rise over the Lighthouse and was blown away to see this magnificent sunset over the coast to the south'
Free talk by author David Hill
Award-winning author David Hill is giving a free talk about his young adult novel 'Enemy Camp', set in Featherston during WWII. It tells the story of the clash between Japanese prisoners of war and guards that resulted in 74 Japanese prisoners and one guard being killed.
"I was fascinated by the story. Everyone seemed to know something about the Featherston incident, but it was very very hard to come by hard facts. The mystery of that appealed to me," Hill said.
The event is part of the Yarns in Barns Wairarapa Festival. Aratoi, Weds 1 June, 1-2pm.